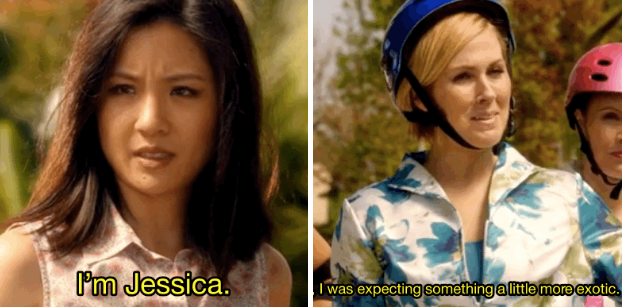 Image courtesy of Buzzfeed
Pictured Above: A scene from Nahnatchka Khan's television series Fresh Off the Boat
A common denominator among almost all stereotypes in Asian roles is the West's fascination with Asian 'exoticism'. As with early stag films, American film and television enjoys fetishizing Asian bodies, putting them in to the role of the 'exotic other'. Forcing this otherness on to Asian roles – and, by extension, on to Asian bodies themselves – only enforces the idea that Asian Americans are not actually Americans.
This otherness, while displayed through the martial arts master and the lotus blossom, makes itself blatantly apparent through the stereotyped role of the foreigner/immigrant. This type of role is often called the "perpetual foreigner" stereotype. It is characterized and personified in many different ways, through such things as a thick accent, which is mocked or made fun of by other characters.
"Stereotypes are only dangerous when they are used as the butt of the joke…What makes a stereotype harmful is when it's a one-dimensional person." –Constance Wu
However, there has been a clear rejection of the foreigner stereotype in more recent media, particularly through television shows: ABC's Fresh Off the Boat and CBC's Kim's Convenience, for example. Both shows, created and written by immigrants, aim to tell the stories of what being Asian American immigrants are really like – including all of the racism and stereotyping that Asian immigrants endure on a regular basis. And while they both deal with real issues, they're done through the lighter, more comedic lens of a sitcom.
Shows like this are not the first rejection of stereotyped Asian roles in the media. However, they both equally demonstrate the success that this rejection can have. Looking back at the comments made by Ridley Scott on Exodus: Gods and Kings, a common excuse for the stereotyping of Asian roles and for the removal of Asian roles completely is that non-stereotypical Asian roles are not successful. This is obviously not true, and simply a myth that is perpetuated by white-dominated Hollywood.
Shows like Fresh Off the Boat and Kim's Convenience successfully reject the perpetual foreigner stereotype, and instead replace it with honest – and comedic – representations of what being an Asian American immigrant is truly like. Not every story needs to display the white experience, or consider the white perspective on Asian experience.
Although the perpetual foreigner trope is still very present in film and television today, rejections of this stereotype show the success that can be found in not buying in to racialization and orientalism.